2015-16 Year of Youth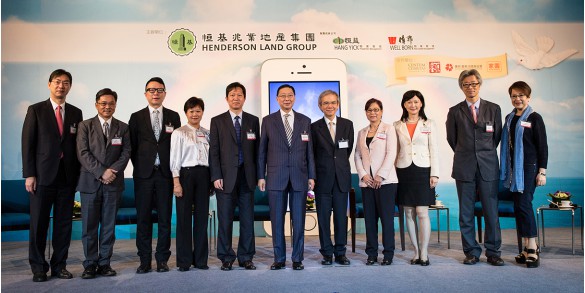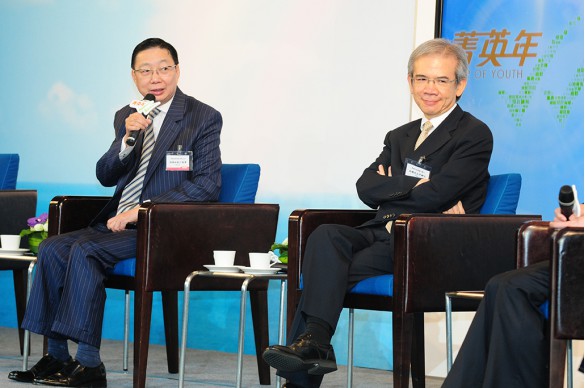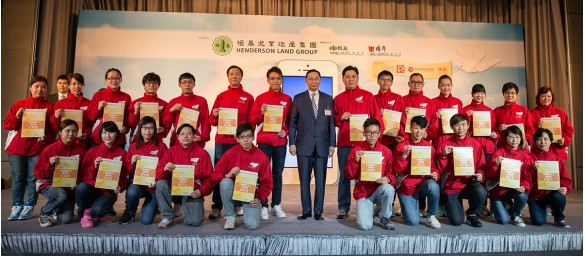 Henderson Land Kicks off its Year of Youth to Inspire Perseverance among Members of the Younger Generation

Henderson Land Development Group officially launched the themed Year of Youth at Hotel ICON on 19 March 2015. Mr. LAM Woon-Kwong, Holder of Hong Kong's GBS (Grand Bauhinia Star), Justice of the Peace (JP), and Convenor of the Executive Council of the HKSAR Government, graced the grand opening as the officiating guest. Also present to show their support were members of Hong Kong's Legislative Council, prominent educational and business leaders, housing owners, and the partners, management and staff of Henderson Land. The atmosphere was cordial, lively and highly positive.

The unveiling of the Year of Youth was impeccably organised. After the strains of the singalong of "Soaring Elites (菁英翱翔)", the theme song of the Year of Youth and a fun-filled interactive texting activity had kick-started the opening, Mr. SUEN Kwok-lam, Mr. LAM Woon-kwong, NPC deputies Ms. Sophie LEUNG Lau Yau-fun, LegCo Members Dr Hon Priscilla LEUNG Mei-fun, SBS,JP, Mr. NG Leung-sing, SBS, JP, Ms. Starry LEE Wai-king, JP and other prestigious speakers shed light and offered insights on current issues regarding youngsters in a sharing session, expressing confidence that teenagers would be able to make progress proactively and demonstrate perseverance. The event was conducted in a fluent and well-paced manner, thanks in very large part to our volunteer guest hosts, the well-known and popular disc-jockeys Ms. Candy CHEA and Mr. Francis MAK, while members of the Hong Kong Rope Skipping Club also delivered a fabulous freestyle performance much to the delight of all the guests and spectators. In keeping with tradition, Henderson Scholarships were awarded to young talents living in its housing estates, and outstanding Henderson volunteers received their due recognition.

The events of the Year of Youth will be sponsored by the Centum Caritas Foundation, the Ai You (Hong Kong) Foundation and the Loving Home Foundation (家園基金), with a focus on projects that will cover a range of issues relating to youth development.

In evidence of Henderson's ongoing commitment to exercising social responsibility, the Henderson Land Development Group became the first enterprise to hold Theme Years directed toward the promotion of public awareness and actions in respect of major social issues. Starting from 1998, it has successively promoted the Year of Fire Prevention (防火年), the Year of Cleanliness (清潔年), the Millennium Year of Environmental Protection, the Year of Education, the Year of Courtesy, the Year of Team Spirit, the Year of Integrity, the Year of Safety, the Year of Diligence and Savings, the Year of Care and the Year of Seniors. The core objectives of the Theme Years are to improve civic education, to strengthen bonds among people, to care for the elderly and the needy, and to promote social harmony.